This is an extra, emotional blog post. Especially emotional for me, I've started to write this and deleted it more times than I can count on one hand.
I'm truly not sure the best way to start it.
Where to begin?
What to write?
How much do I write?
Do I really share all I'm feeling?
Do I want myself exposed on my blog that is more for business reasons?
Do I want to be honest?
All I keep thinking is, those that know me and work with me, know one thing....I'm a very passionate person. I put my heart in all my relationships; with my family, friends and my clients.
So, from that...I've decided to be honest and just be me.
Before reading on, please know...this is all about a man that I loved and blessed to know that I was able to call him my friend. My friend that I grew to love. Not just because he was my best friend's father, but because of my photography...he and I became friends. Because of photography, he and I grew to know eachother.
I'm going to start with a little history, I began my friendship with my girlfriend 6 years ago when she and I were expecting our first children. By a miracle, she and I delivered our first babies on the same day, at the same hospital. Her husband and my husband grew up together playing ball and going to school together.
Years after we had our children, we were talking and she suddenly thought about her parent's property that she realized I would be giddy to use as a location for photography. She and I met at her parents after dance class one morning. She took me on a tour of her parent's property that was filled with old cars, car parts, an old garage and just random pieces that her father had collected over the years in hopes to one day repair, rebuild and restore. Each piece on the property had a purpose. Most times, not really sure of the purpose, but each piece had a purpose because one man saw a treasure in a rusted piece of junk.
I remember meeting her father for the first time and he was like a giddy school boy just thrilled that someone else was just in love with his peices as he was. He was flattered. He was humbled. More importantly, he was generous. For years, he allowed me to come to his home and use each part of his property for photography without reservation.
During each visit at his property, before and after a session, he and I would spend time together either speaking briefly about his collection or at great length. I remember a time he and I stood in his garage and I asked about random pieces he had....license plates and old metal "things". He then showed me an album of all the cars he had restored for OTHER people. Not cars for himself but cars that people brought him that he often told me should have just been demolished...but he found a way to break the car down to just a shell and create a beautiful piece that restored a piece of history for someone to be proud of.
This is a man, that when I arrived for a session, he would come out and greet me with a hug and smiling. I don't recall a time that I never saw him without a smile and he didn't hug me. Like his wife and kids describe him....he was just a big teddy bear. And that is true....he was one big, huggable teddy bear, and just flattered that I would want to take pictures with his collection...or as his family called it, his junk. One time, he was so excited to share with me that he was able to get two antique mailboxes that he had to have because he knew I would just love them.
Sadly, last Sunday, he was involved in a car accident. He had left with a neighbor...who considered Don the brother he never had...to go for a ride in a 50's model Ford truck he was excited to show him. About two blocks from his home, he was going southbound through an intersection when a man, with two children in the car, ran a red light. I'm going to spare you the horrific details of the accident, but share that because of the other man's carless choice to run a red light, Don tragicly lost his life.
On the day of the accident, I had called my best friend so my daughter could sell her Girl Scout cookies. An hour later, we arrived to her house so my girlfriend could have the "full" blue vest, Girl Scout soliciting experience to only find out that within the hour of me speaking to her, she received the news of the accident and had rushed to be by her father's side. In that short hour....the life my girlfriend and her family knew was going to forever change to the horrific nightmare they are now finding themselves living in.
So, here I am now...sad, confused and angry. I'm sad that I no longer have that man in my life that I was lucky enough to appreciate and love. Sad that I'm seeing his wife, children and grandchildren grieving the loss for their husband and father. And I'm angry! I'm angry that because of a careless man's decision to disregard traffic laws put children in jeopardy, severely injured a man and took the life of another man.
Took the life of a man that was full of generous spirit, positive on all accounts, the source of strength and support for his family and constantly loving those around him.
As everyone knows, every family has a story. But, through photography and working closely with families I've come to learn the story of each family I photograph, cherish their story and strive to capture their story to forever remember.
Don's family has a very heartwrenching, emotionally filled, and loving story. While keeping this families story private....all I can write is their story has been in hyperdrive, with ups and down, in less than a year than any family should endure in a lifetime.
And then this happens to them.
This is where I'm confused, and angry again, with how life plays out.
To best describe the emotions of this family, I have to quote my friend as she wrote me,
"How will it ever be okay again? Tami, I don't think it ever will. He was the positive one that made everything bearable for everyone. So many people have been hurt and upset by this. It is a nightmare."
Yesterday, I received a text from my friend asking me about a picture that I had taken of her father by a car. Wow, I was dumbfounded as to where in the world it would be. I knew it had been taken years ago and I barely had an idea of where to even begin to search for it. I searched through all 4 harddrives and all my disks. And, it was nowhere to be found. The only problem was that I could see the picture in my head, I remembered taking it and knew that in my unorganized methods...it was most likely where it didn't belong. After searching more, in the most unusual places....the file appeared.
Right when I opened the picture, the tears poured out again like the moment I heard he passed away. I looked at that picture and saw the man that always hugged me tight and excited to tell me about something new he had. I saw this man...standing proud in front of a car he had just restored and was preparing to have displayed at a car show.
I saw a man that was taken before his time. He was taken when he is needed here most.
He had plans. He was finally planning on restoring vehicles he had collected for himself.
He was a selfless man, that did for others before himself.
Then, I find myself angry again. Angry at that man, that because of HIS choice to disregard the importance of traffic laws, my friend is no longer here to hug.
Angry because I remember that phone call to my friend to sell cookies and she answered in her typical, random answering fashion....not with a hello, but singing a song. And all I think about it the same question she's asking, will it ever be okay again?
Yesterday I spoke to a girlfriend, who is also my grieving friend's close friend...and we were talking about the loss of Don. Our friend put it perfectly....Don was strong and always positive but his daughter is everything we loved about Don wrapped up in her.
And our friend was right, she is strong, positive and always the source of strength. She is always positive...rarely do you hear her angry, negative or not looking on the upside. She is her father, and because I know her...I do know that they will get through this because Don left a lot of himself in each one of his daughter's and son.
One thing I know true, is that family is tight. They don't go a day without speaking to their mom or seeing eachother.
To wrap up this emotional blog post, I ask each of you reading to please pray for my girlfriend and her family....they need it most now more than ever.
And, to share with you pictures of a glimpse of his collection that he treasured.
Don, with a car he restored in 2009.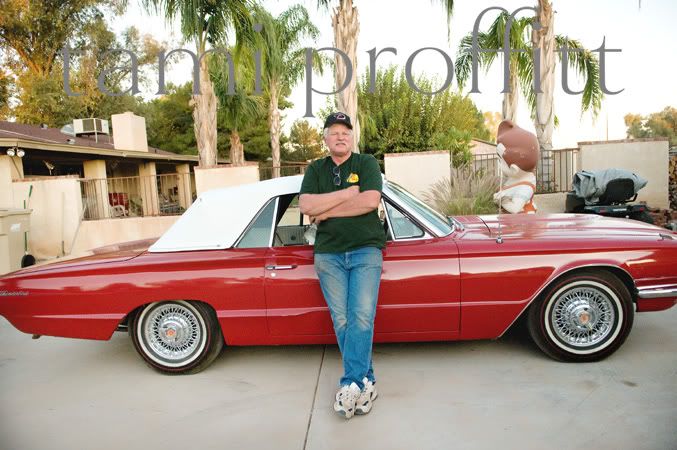 A bus that has been on Don's property for 20+ years. I laugh when I hear the memories his kids have of this bus. Don swore that it was drivable and it was on his list to fix.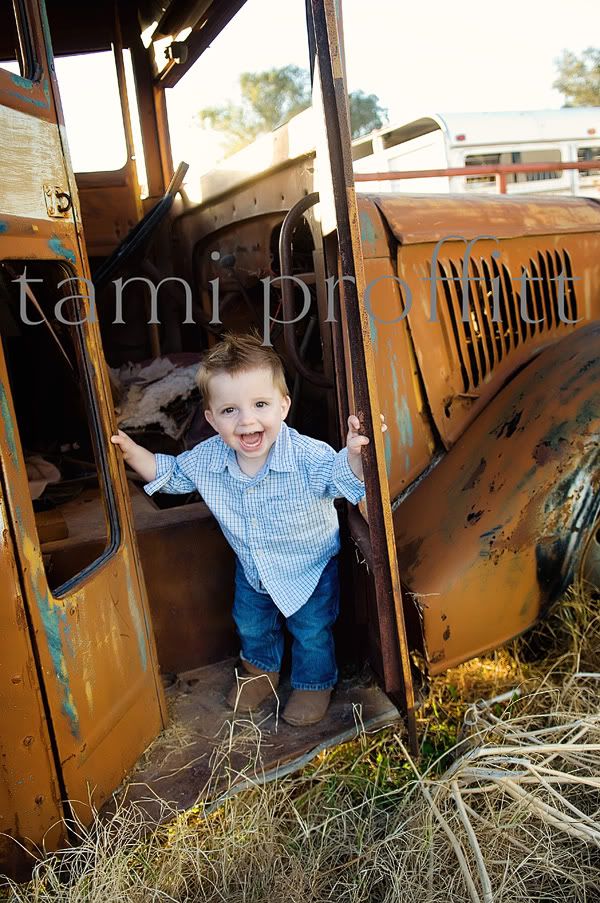 A truck a friend had brought him to restore. It had a matching traveling trailer with it.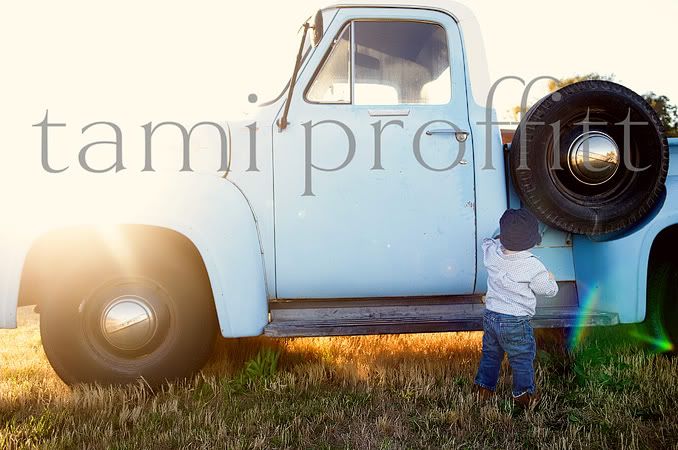 A car that Don was in the process of restoring. He literally gutted the car and was building it back up from nothing. This was a car that Don thought it would've been best to let it just rest but he was finding a way and was committed to restore it back to working condition. The boy in the picture is Don's oldest grandson.
The truck in the picture was gorgeous...just beautiful. In the past year, Don had it running again and was driving it down the road. He later sold it. The family in this picture is his oldest daughter.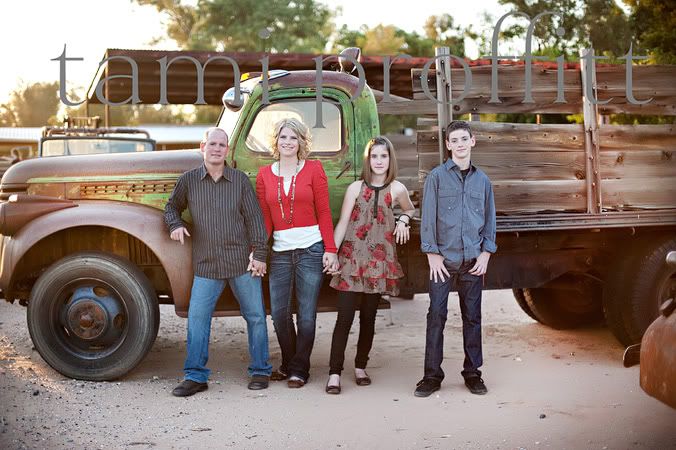 The inside of Don's garage with one of his own cars...that I believe has been just collecting dust for some years while he was working on other's cars.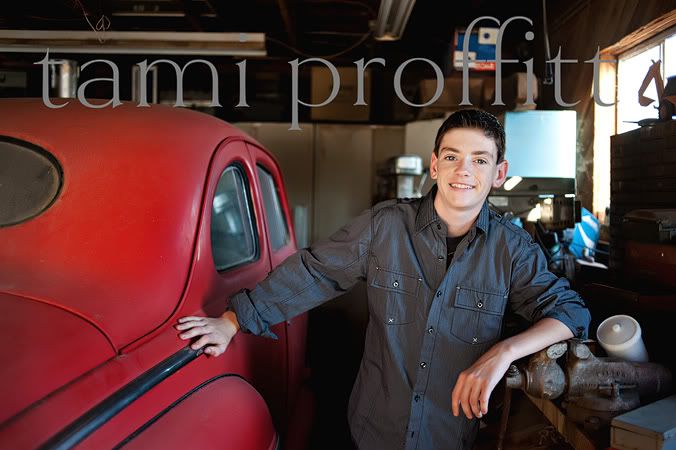 One of Don's collector's piece. The tricycle is also Don's that didn't work but just laid around and became the perfect photography prop.
The outside of his garage. Below is an old truck that Don had up on one of his shelves. He had brought in down to show me, thinking I might like to use it. Don has so many treasures.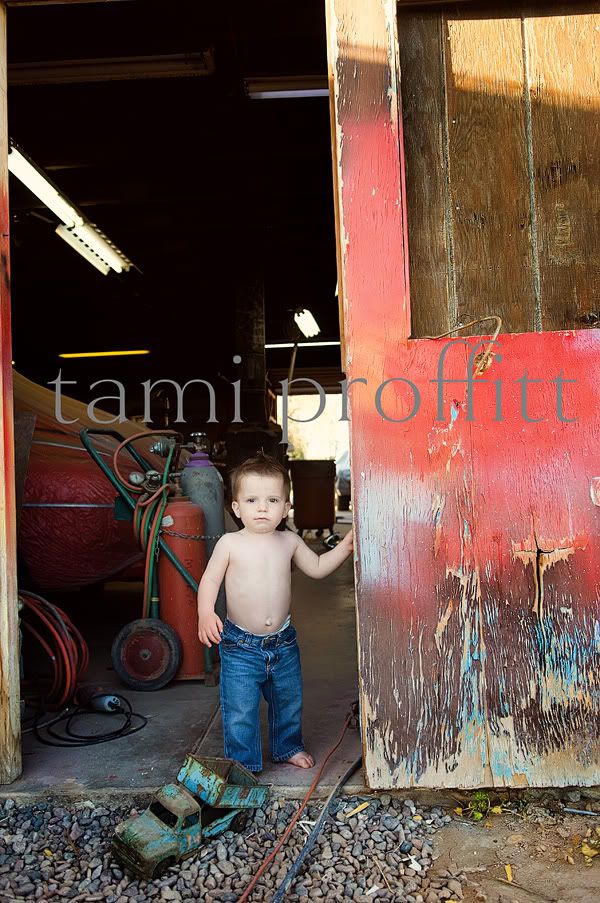 Again, please pray for Don's family. I know the pain I'm feeling for the loss of a great man is just an ounce of what his wife and children are experiencing right now. A feeling I can't even fathom.

For now, I'm more than likely to let this blog go quiet for a while. I'll be back soon to share more of the sessions from 2011 and update with the sessions starting this weekend.