It's been two months since we moved into our new home. And, well...let's just say, things are pretty much the same as when we moved in. Excluding a few rearranged pieces of furniture.
Just the other day my husband said he was surprised I didn't have more of my pictures hung up or rooms decorated. My reply....bwah ha ha ha! Um, when would this get done. Hmmmm, let me think...
between the piles of laundry I walk by each time I'm leaving and coming home, or between meals, before or after the graduation parties and the play time I can't resist have every second available to do. Or maybe, just maybe...skip buying groceries for my family to figure my layout.
Oh, if only there were enough hours in the day. Actually, I'm thankful my schedule has my head spinning because I still have no clue as to what I want to do with the massive amounts of wall space I have. Which by the way, I'm head over heels in love with the space....now to figure the layouts and gallery pieces that are needed.
For now, there are three rooms that have priority for me to figure out. One of which is my office...A.K.A. the pit of papers and boxes. There is absolutely no rythme or reason to the stacks...absolutely NONE at all!
A couple weeks ago I had a few photographers over and I remember hearing one chuckle when she noticed I had my camera sitting on the ground. Yep...total chaos I tell you!
And, the pictures you see hung...they're just randomly hung because a nail was there from the previous owner. And the butterflies...yep, those belong in my girl's room...along with the tissue pom poms but I'm still not sure if the room they're in now is going to be their room. I swear I'm going to drive my husband crazy.
I figured that there is no other way to get things done then when you're held accountable. So, here is my first "before" picture of my office. The only thing that will make this makeover longer than needed is the office furniture I totally need to save up for.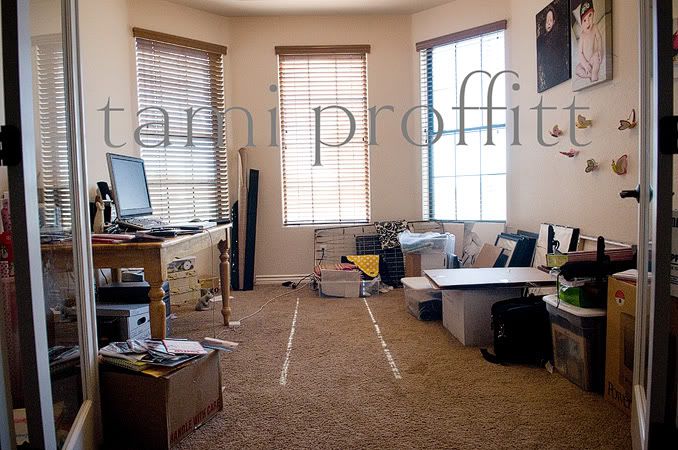 This is one of my favorite office pieces...my inspiration board. This crib spring thingy is from my crib as a baby. I found it in my parents shed and have loved using it as my inspiration board. It typically has my favorite quotes, reminders of love, inspiration images, lighting ideas, etc....all that I love to swoon over when I'm needing extra inspiration.
And the plaid pieces of fabric...those are supposed to be the drapes...thinking of pulling the green out as a wall color. Not sure yet.
The ruler thingy on the right side of this picture...yep, it's for measuring and cutting fabrics on my cutting mat (love to make quilts). Reference: RANDOM room with NO rythme or reason.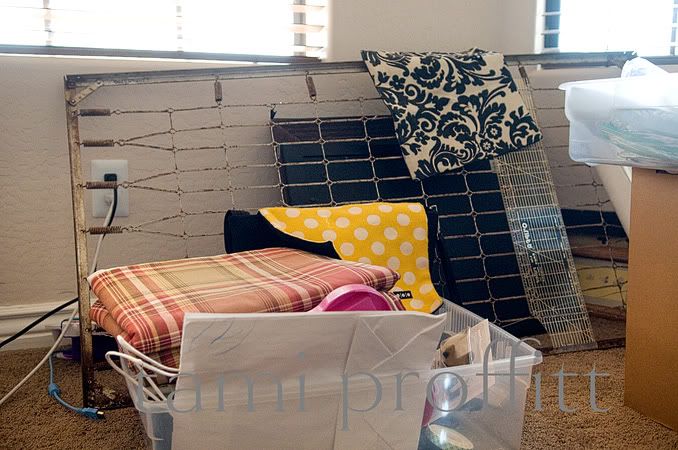 Here are two shelves that I have no idea as to why they're in my office, let alone what I'm going to do with.
And in between theses shelves...a bolt of fabric from the bedding I made for my twin's cribs that I think I might use to cover the barstools I have dreamed up in my head. Now, to only find those barstools I've imagined.
Now, this is a little sneak peek into the mass chaos in my house right now and a glimpse of the ramblings from my totally unorganized mind. So, as I like to do best....I just don't look at these things and go straight to my computer.