As my girl's 4th birthday is literally around the corner, the days leading up are always filled with remembering what led up to their arrival.
Before I get down to the nitty gritty, a trip down memory lane has been looooong overdue!
I'm a firm believer in two things...
1. people come into our lives for a reason
2. how we live comes back to us...life is truly a full circle.
15 years ago, I met a woman that forever changed my life,
Allison
. Then, she was just a couple years younger than I am today and I was fresh out of high school.
I'm pretty sure when we met, neither of us realized we would still be in eachother's lives 15 years later. But, here we are...and I'm lucky to have her be a part of my arsenal of friends that contribute to me being the person I am today.
After high school, I grew up as her being my "informal" employer as I worked in her home. From there, she became my life coach, friend, confidant, and now parenting counselor.
I still remember the days after working, that I would sometimes spend hours talking with her and absorbing every. single. word. that she spoke. And her probably praying I would make it to graduation with sanity.
After college and marriage, Allison was there for each step I took when fighting infertility.
And, was the one to capture my expanding belly when I was expecting my twins.
I was 25 weeks pregnant here and had no idea how big I was about to be...actually abnormally large with a belly button ready to burst off.
Here is the grown up girl that led me to meet Allison...the only person missing here is her brother. I've been proud to watch both grow up these past 15 years.
Two weeks after my twins arrived, Allison was there to photograph my family we prayed long and hard for.
I'm sure Allison wanted to fall flat on her face when she walked in as I literally live in a dungeon where light is minimal. But, she made it work....with the help of removing my window screens.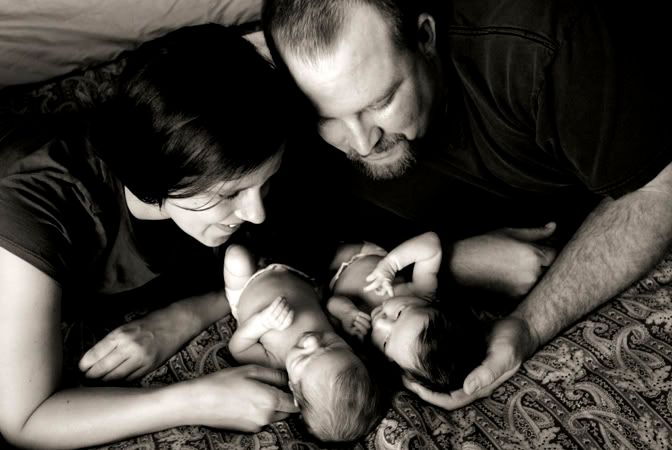 My girls pretty much screamed the majority of this session. So, parents, when your newborns cry throughout your newborn session...do know it's not unusual.
This picture melts my heart...me with my baby Camryn. She was so tiny. She has always been a mover and impatient with everything. The only thing that would calm her cries was me holding her...often found walking up and down on my tippy toes between 2 and 6pm. Aside from her impatience, she is full of innocence, happiness and sees everyone as a good person.
And Cashlyn...my dramarama girl. As a newborn, she could call in any animal within miles with her cry...but was so dainty, sweet and quiet. She was the easily content baby.
There are countless newborn portraits out there that many covet, for me...these are my all time favorites. These are my babies...cries and all. These pictures I have hung on my walls.
And back to everything thing has reason...
while I think there are many reasons Allison and I met, I'm thankful for each one. And thankful that she has been there for each step in the last 15 years of my life. Also eternally grateful for all her parenting advice she has never failed me on these past 4 years.