Today was my girl's first soccer practice....now I'm wondering if I can officially sport a "soccer mom" bumper sticker on my suburban!?! Can I ?
I have a few "first day of___." pictures in this spot...
And I've loved how each one captures their personalities in each stage of starting something.
This would probably be one of the few documentary style pictures I love. It reminds me so much of the first day of school pictures my mom has of me and my twin.
Soccer practice honestly went pretty well. We had signed up for soccer with some good friends and have played out what we thought would go on. I think I missed a bit today as I put on the official "annoying mom with the camera" hat. I kept snapping away and then finally thought I need to put my camera down. But I was so glad when I caught a few of my favorite moments.
Practice started with the kids stretching... Here's Camryn with her favorite boy...Mr. R-man.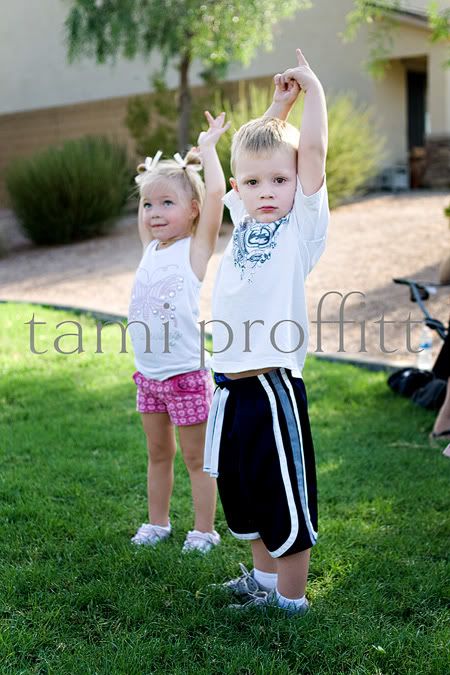 Cashlyn stretching but worrying more about what was going to happen next...she's such a planner. Love her...
All I can say at this point is...any person willing to coach a group of 3 year olds in soccer has the patience of a saint. Patient with kids that had an attention span of a millimeter.
But their coach is patient...and incredible with the kids. He knew just what to do and then moved on quick to the next activity before the attention was lost. He must be the preschooler whisperer. What I do know...he's pretty gifted with kids as he's the proud father of 7 children himself. As a mom of three...he IS a saint.