This past week has been an absolute whirlwind of days that just rolled together! I think it's safe to say that the busy holiday portrait season is officially here. Even though it is complete madness with coming and going, living in my office and on the phone/computer nonstop, it's also a favorite time of the year because I get to see many families I've been blessed to photograph for almost 4 years. And even better when I get to see how much the kids have grown, give them big hugs and laugh with them as they laugh at me in all the quirky positions I'll get in just to get "that" picture.
Last weekend I was up north and in true Arizona weather unpredictability, I arrived to the session location to find almost 2 inches of snow. It has snowed the night before the session and I was sure it was going to be cold, I just wasn't positive there would be snow. I had called my client and shared with them that they did have options to reschedule for another time but they assured me that they were good with the session time and weather possibilities. I had moved the session time back by almost an hour in hopes it might be a bit warmer and if there was snow it might have melted a bit...but no, we arrived to the location with it 32 degrees and snow everywhere! Just when you think that's the time to get stressed out, I met up with the family and all we could do was laugh.
And I think that was my favorite part...just laughing through the session even though the session was thrown a HUGE curve ball as the location went from a dreamy creek covered by trees to snow everywhere!
Honestly, I couldn't imagine a better family to take pictures of in the snow then this family!
To get to the location we had to go down a slope that was covered in snow. Since this location is a favorite location to go to with my own family, I knew underneath was a rocky path, needless to say, we were very cautious.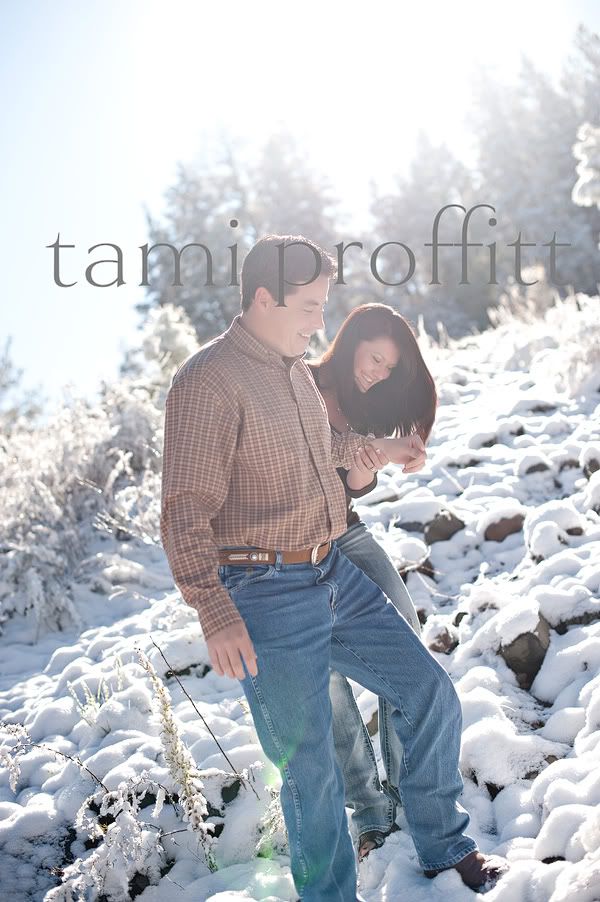 I just love this little miss, shy and quiet but filled with giggles this whole session. Maybe because I had her sitting in snow and I was crouched in the middle of snow covered trees to get this picture.
Or maybe because we had to hide from the side that was getting pretty high in the sky and everywhere we went the snow was falling on them. :)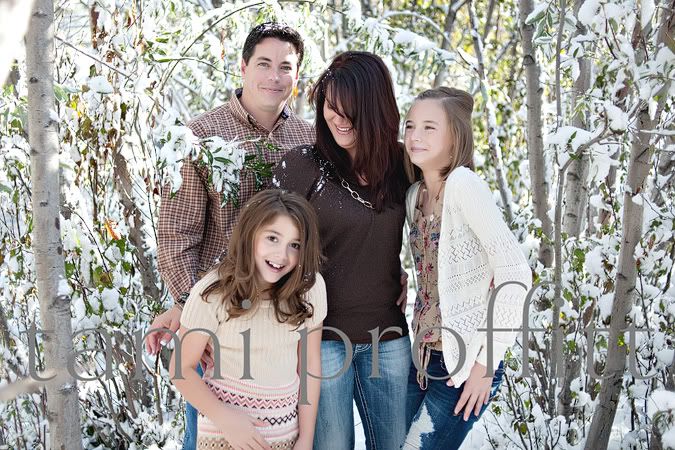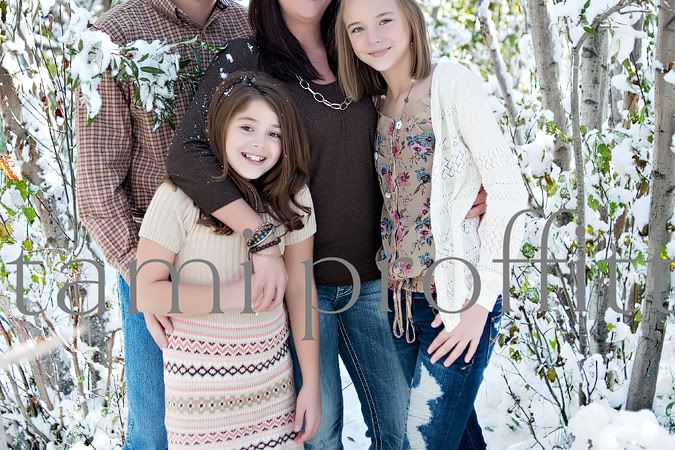 Taking pictures in the snow is definitely something I wasn't familiar with....it has it challenges but it also gives such a magical glow in pictures when the light hits the snow just right.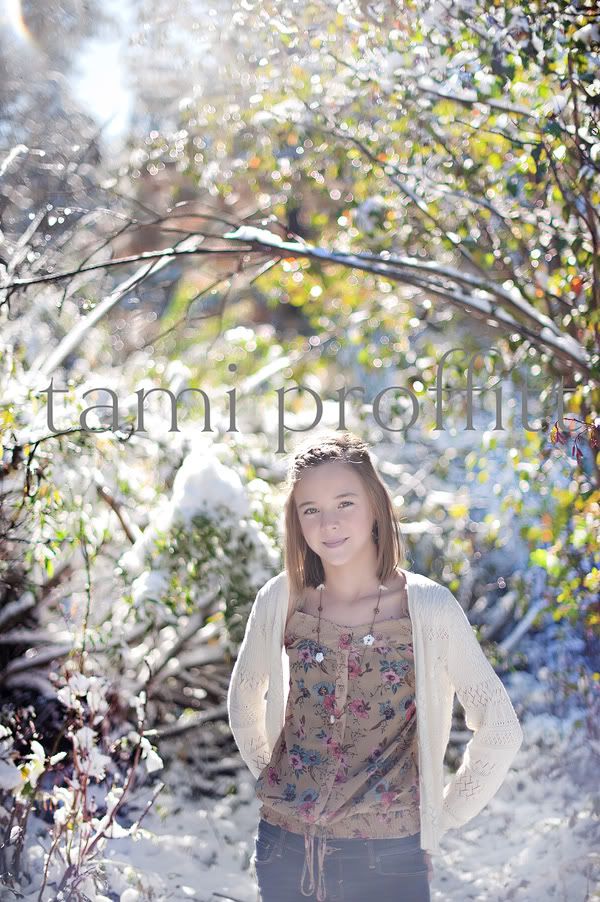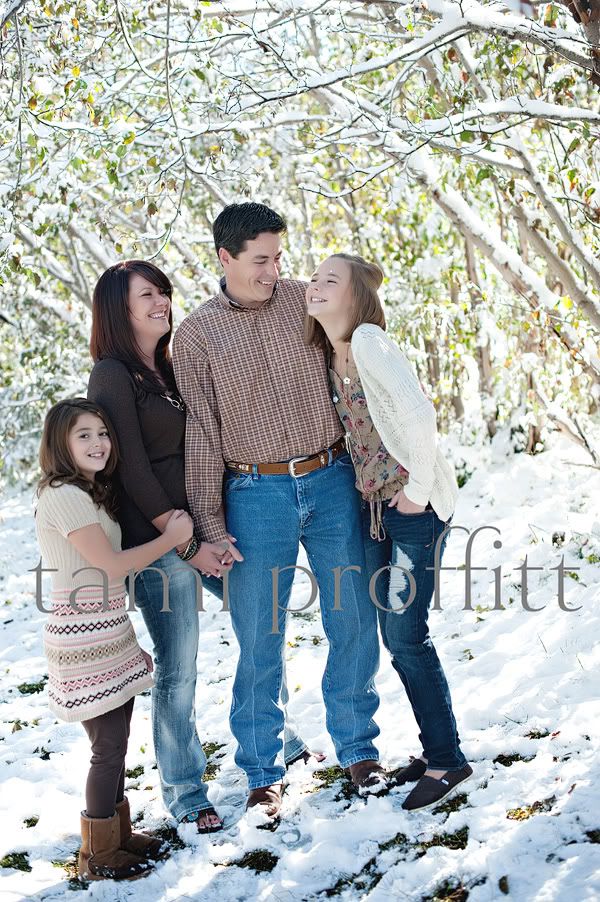 And the absolutely fabulous parents of this gorgeous family, this picture reminds me of the Colbie song "Bubbly". I think she has the cutest laugh.
And the session ended perfectly when I asked the family if they'd be interested in having a snowball fight, with all the girls shaking their head no...the dad reminded them that having snowball fights even when they are cold is how good memories are made! Yep, I smiled big when I heard that!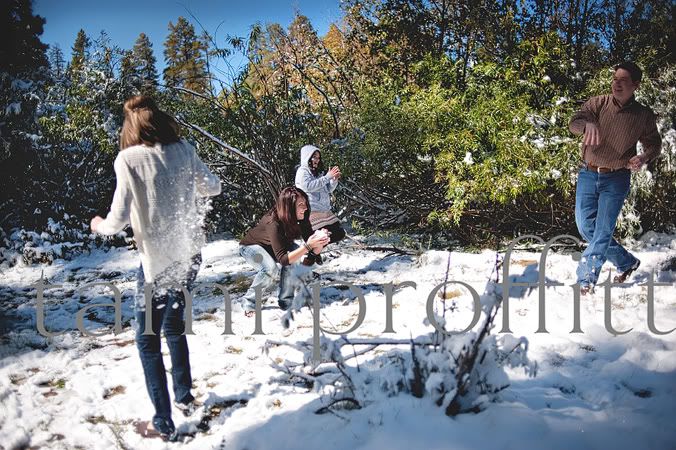 Totally dreamy picture and then seconds later getting a snowball thrown at her. LOVE it!