One of the BEST perks to my job is, I get to know my clients reeeeal well.
This set of boys is just one example of this.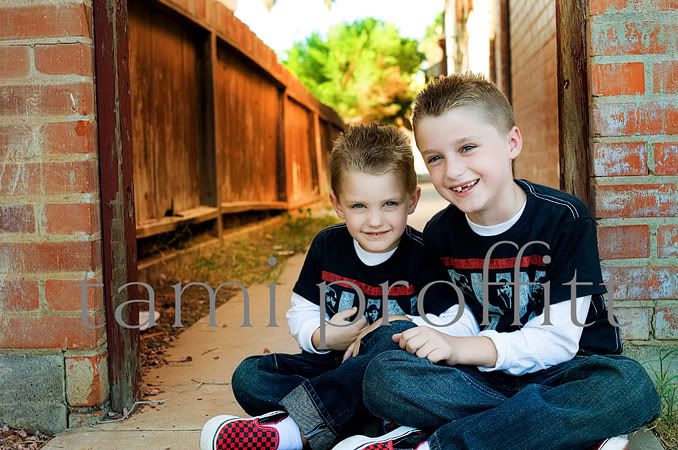 I've photographed these two four times now. And with each shoot...we have come to learn what works best in maximizing our time together and being sure to fill it with as much fun as possible. Now, remember where I wrote I taught boys for 8 years...well, I was able to dip into the bag of tricks I collected from those 8 years with these two.
Because let's be honest, what boy truly loves to have their picture taken? But I think these two just might...as they've learned with me, there is always tons of fun.
As soon as these two came out of the car, they quickly asked, "Miss Tami, can we play hide and go seek?" And, "Can we play freeze tag and duck duck goose?" Before I knew it...we were catching up on their latest sporting activities, school happenings, who goes where now, etc. And I'll be honest...I just love these two and I can't wait to catch up with them again.
Here is just a snip from our first round of hide and go seek. LOVE it...
C and J...can I just squeeze you two next time I see you? And, once again, thanks for a fabulous time, I'll miss you.
And just as I was wrapping up a great game of freeze tag....breathing heavily, beat red in my face and giggling...I was met with three little boys I hadn't photographed in a year. There was tons of catching up to do there...stay tuned for this trio.
************************************************
Updates:
This week is the "first week" for the rest of the holiday season. I have a workflow and I'm sticking to it...I have to. If not, I think I might get buried alive with orders, data entry, editing, emails, etc. Today is Tuesday...ugh, Tuesday means data entry. Let's just say it's a loooooong process and I happily snuck away to do this blog post.
Mini Session Availability....
gone... yep....gone!
I was flattered to see the emails come in asking for the opening. Unfortunately, Tuedays are also the day that I'm gone from 9 am to 4 pm and then back out for soccer practice...again, loooooong day! So, I'm sorry if some of the emails didn't get responded to as fast as I'd like them to and I plan to return all the phone calls tomorrow. Thank you ALL for patience.